WATER PROOFING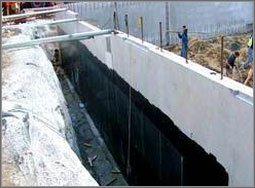 Civil Doctor, the world's leading waterproofing company has been producing innovative and high quality waterproofing products since 1998. Whether the project is new construction, renovation or restoration, we are available for consultation before, during and after the construction process. Early involvement with architect, engineers and contractors minimizes risks and ensures compatible specifications can be met. Moreover, the process can also result in beneficial value engineering solutions and cost savings to the client.
Waterproofing Applications
Waterproofing for RCC Roofs and Sunken Slabs, AC sheet roofs and gutters.
Waterproofing for overhead water tanks, underground water tanks, sumps, underground parking decks and basement cellars.
Waterproofing for toilets (sunken portions)
Waterproofing for retaining structure and Roof Garden
Waterproofing of Swimming pools.
Assured Quality and Services!!!
Our Services
Contact Us Quickly
Contact us
CIVIL DOCTOR
#12/20, SND Layout No II,
Tatabad,
Coimbatore-641012.